Myocardial Infarction- Heart attack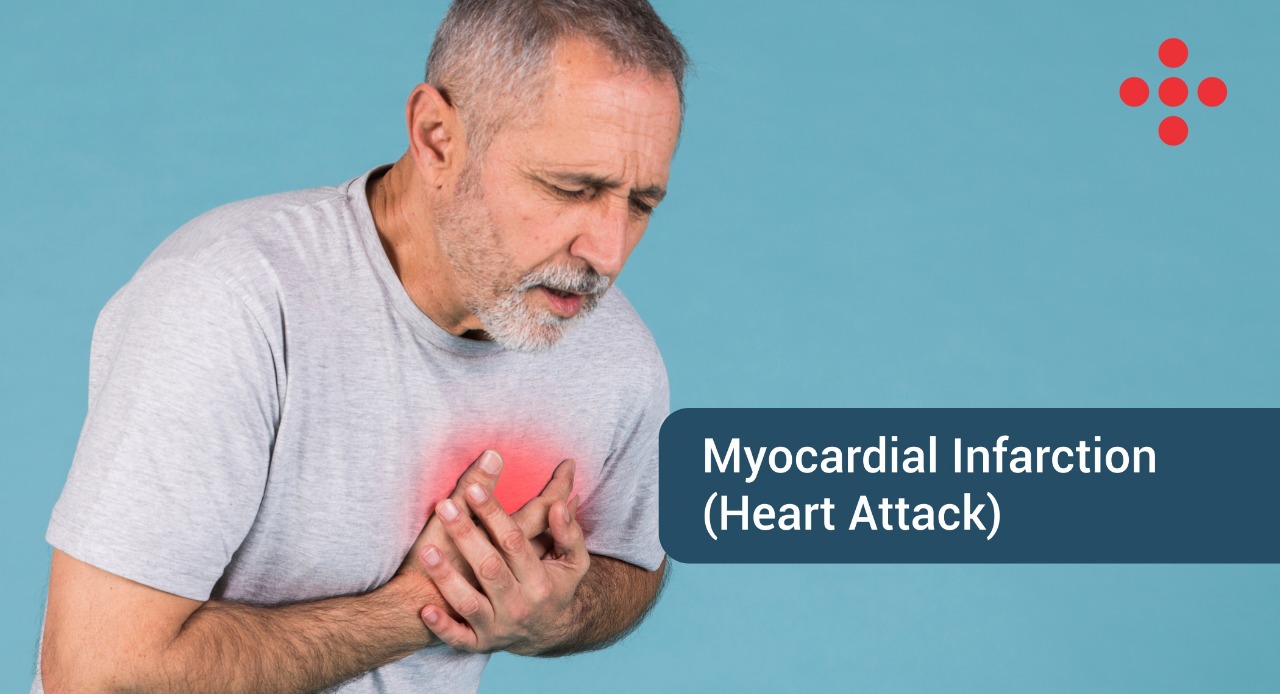 Heart Attack (HA) is the leading cause of death in the world.
Heart Attack is the disease due to blockage of blood vessel supplying blood to the heart leading to damage to the heart muscle, sometimes irreversible.
Risk factors for Heart Attack:
A. Non-Modifiable risk factors: these are the risk factors that are not under our control.
Age: Heart attack is common in elderly people, but because of the unhealthy life style habits it is seen in younger people also.
Gender: Males are more prone for development of Heart Attack
Genetics: Heart attacks are common in people whose relatives (Eg: parents, brothers, sisters) have had heart attack.
B. Modifiable risk factors
Diabetes Mellitus
Hypertension (High BP)
Obesity – Over Weight
Sedentary Life style: Lack of exercise
Unhealthy Diet: Diet high in fats, carbohydrates, oil, salt
Smoking
High Cholesterol Levels
Stress: High Stress can lead to Heart Attack
Symptoms:
Chest Pain: Pain located over centre or left side of chest squeezing / crushing type, feeling of heaviness, radiating to jaw, throat, back, left hand
Breathlessness: Sudden onset of breathing difficulty
Sweating: Sudden onset of profuse sweating, especially over the face.
Diagnosis:
Diagnosis of Heart Attack can be done by following tests,
ECG: Simple test, widely available, sometimes the 1st ECG might be normal but if suspicious of heart attack is high repeated ECG every 15-30 min for 1-2 hour should be taken to rule out heart attack
Echo Cardiogram: for heart scan
Cardiac Enzymes: CK, CKMD, Troponins; level of these enzymes are elevated in blood after heart attack.
Coronary Angiogram: is the test which determines the location, number and severity of blocks in the coronary arteries
Treatment:
Treatment should be started as soon as possible and time should not be wasted. Delay in treatment most commonly occurs as the patient thinks heat attack pain as acidity pain and delays in coming to the hospital.
Golden Hour: It is the 1st hour after onset of chest pain and if treatment is started in the 1st hour the success of treatment is high and death will be low.
Thrombolysis: in this form of treatment an injection is given to dissolve the clot in the heart blood vessels. The success rate of this treatment is low and the risk of complications like bleeding is high.
Primary Angioplasty: This is the gold standard treatment of heart attack. In this coronary angiogram is done the block is identified and cleared by implanting a stent. The success rate is high.
Prevention:
Healthy Diet: Healthy food like fresh vegetables, fresh fruits should be consumed. High fat, high oil, high carbohydrate containing foods, junk foods should be avoided. Red meat like mutton, beef is harmful. Fish is good for heart.
Exercise: Regular exercise like walking, jogging, cycling, swimming, playing badminton, volleyball, basket ball etc should be done at least 45-60min every day. It reduces the risk not only of heart attack but also of diabetes and hypertension.
Stress Relief: Doing Yoga and Meditation is good for health
Quit Smoking: Smoking is very dangerous and It should be stopped for prevention of Heart attack.
Regular Preventive Health Check-ups: Regular health check-ups once in 6-12 months will help in detecting diseases early and helps in prevention of heart attack.